Hockey in the Himalayas is the first project of Wandering Wahba – Truly Travelling. The seed for this idea was planted a couple years ago when a friend of mine, James Turner, returned from a year gallivanting the globe with his wife. Part of their journey took them to the Himalayas in India where he coached hockey and she coached figure skating. This wasn't what I had in my head of a typical visit to India, but I thought it sounded fantastic. After James showed me the photos, I knew that it was only a matter of time before I planned my own visit. So, for the first project…..
"We are going to take 50 bags of hockey equipment and 300 sticks to the Himalayas, donate them to SECMOL, and play pond hockey with the locals."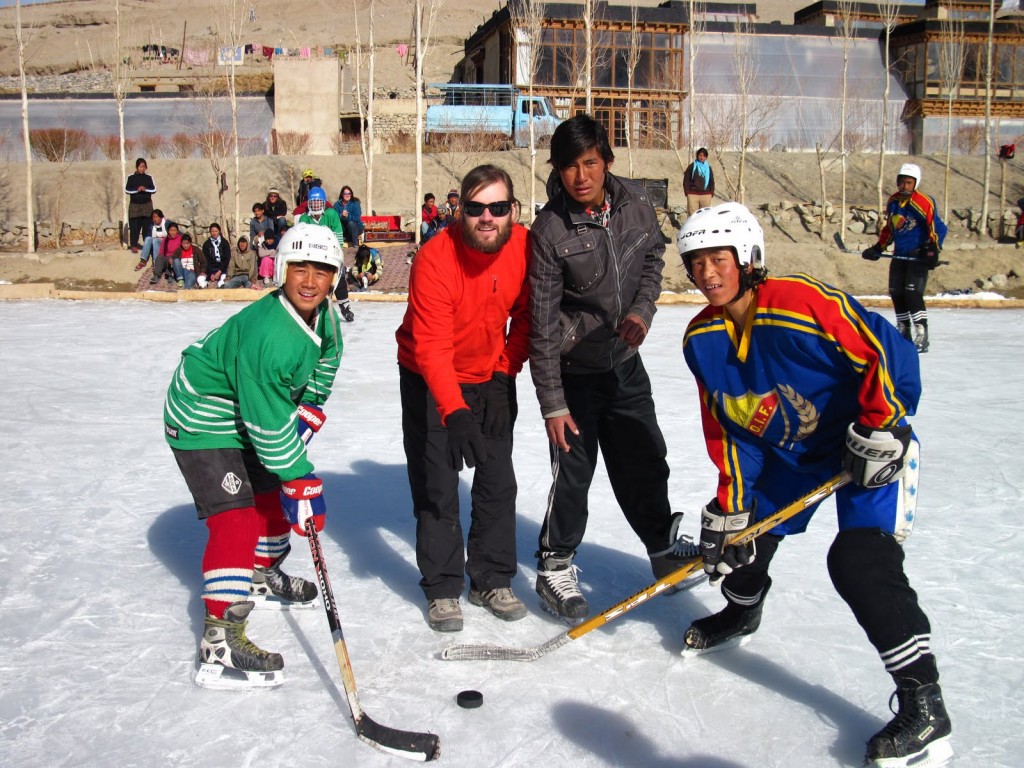 Hockey in the Himalayas

This project will take me to India and the city of Leh. Leh is located in Ladakh in the eastern part of Jammu and Kashmir. It is a high-altitude desert region of India. The region is a popular destination for trekkers as well as travellers visiting ancient Buddhist monasteries. I will be going there to volunteer with the Students' Educational and Cultural Movement of Ladakh (SECMOL).
SECMOL was founded in 1988 by a group of young Ladakhis with the aim to reform the educational system of Ladakh. Today their activities are extremely varied. They organize activities for Ladakhi youth, run a campus for students going to school or college in Leh, develop solar energy projects and much more. The project that I am interested in for this trip is their hockey program.
Apparently, ice hockey is hugely popular in Ladakh. Unfortunately, due to lack of skates and equipment, most rural children do not get the chance to play. At SECMOL, young people from rural villages get the chance to skate and play thanks to equipment donated to SECMOL by friends around the world. This is where I would like to try and help out.
Equipment is a constant need at SECMOL. I want to deliver some new equipment to them. I have been in touch with the volunteer coordinator at SECMOL and she has informed me that their greatest needs are hockey sticks, skates, and equipment in that order. I am not too worried about getting hockey equipment together to take. I think that with a bit of leg work I should be able to coordinate that here in Canada. However, I think that it may be a logistical nightmare to actually get the equipment to Leh. Good thing I'm a bit of a sucker for logistical nightmare challenges. After I get the equipment to SECMOL, I would like to stay and volunteer there for a couple weeks helping out with the hockey and skating programs.
So, that it is the idea in a nutshell. Get some hockey equipment together and take it to the Himalayas to play pond hockey with the locals. Departure date, sometime early January.
Feedback and ideas would be appreciated in the comments below.
If you are interested in partnering with the project, please contact me through the comments or directly and andrew@truetravellers.org. We need to raise $8000 to ship the equipment from Canada to India. Please consider donating to the project as your support would be greatly appreciated.
I will keep you updated as the plans develop.